Microcoleus vaginatus (Vaucher) Gomont
Desikachary 1959, p. 343, plate 56, fig. 3; Geitler 1930-32, p 1136, fig. 741.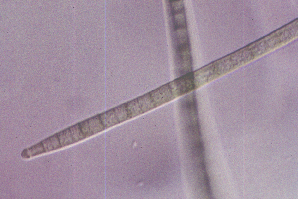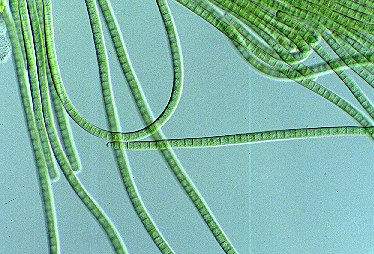 Colony long, flat rope like strands spreading amorphously sometimes coiling to form a circle. Filaments with sheaths containing multiple, parallel, trichomes. Sheaths colorless, thin and open. Trichomes highly motile, often escaping the sheaths, not constricted at cross walls, with type C cell division, tapering, 4-6 m m wide. End cells conical to capitate with calyptra. Cells quadratic to longer than broad, granular throughout, concentrated at the cross walls, 4.0- 6.0 (8.0) m m long.

SEV 2, plate 3, c 3 (exp. 11 40x, 12 –13 100x)
SEV 2, plate 3, c 4 (exp. 16-17 100x)
SEV 2, plate 3, c 9 (exp. 19)
SEV 3, plate 4, c 4 (e. 2,3)
SEV 3, plate 5, c 1 (e. 16, 17)
SEV 5, plate 1, c2 (roll 1, exp. 38)
SEV 5, plate 1, c9 (roll 2, exp. 10)
SEV 5, plate 3, c5
SEV 5, plate 3, c 32
SEV 5, plate 5, c1 (roll 2-1, exp. 37, 38, roll 2-2, exp. 1)